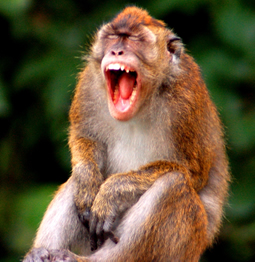 We were once screaming to be found and vowed never again to be lost in obscurity; it's this pursuit and dedication that leads us to being able to help the masses ... even if it is one by one by one! That's right, we're one, lone simian and we know what we're doing! We hope this explains why we can't take on projects too time consuming; after all, one ape can only do so much.
We reserve the right to adjust our pricing on a per project basis, but we generally like to be friendly at $50 per hour. A solid website will usually take 12 - 24 business hours to be constructed, and released for public consumption; so to speak.
We're based in beautiful Indianapolis, Indiana, and you may contact us at: harry @ harrysimian.com
We reserve the right to accept or refuse any project offer, for any reason. We thank you for your understanding in advance.