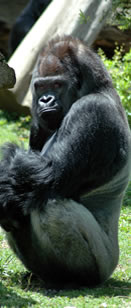 As the late, great Jack Webb said, "Just the facts, Maam." Pure & simple SEO!
Today, most templates are very search engine friendly with respect to appropriate usage of coding tags (header, title, alt, anchor text, etc), and therefore, you stand a pretty decent chance of starting off in the right direction. We employ the same format in our "from scratch efforts."
Additionally, we will ensure your website's content has the necessary phrases (or keywords) that make it easier for those doing the searching, to find you. By simply sticking to what's germane to your area of expertise, interested parties will arrive. We strongly suggest you write or provide the copy for your site (you're the expert). However, writing isn't everyone's cup of tea, so we'll be happy to give it a go for you.
The same idea will be applied to generate the appropriate meta statements that some search engines still use, desire or need. For example, a meta description is usually what you read in your Google search results. The last thing to be done is to create a sitemap; one for your visitors, and one for search engines.
Notes:
First, no one can guarantee you any position or dominance in search engine results. We suggest that if someone does, "Don't do business with them!" Seriously. Professional SEO services are a dime a dozen. Some do understand what they're doing, and can help, but in most cases that help is nominal at best. There are exceptions. Many others are merely after your hard-earned money.
Second, search engine optimization has been a highly argued over subject by many, for a long time. It "seems" to have a different meaning for different people. Frankly, we believe that if a site is built with a solid structure (see second paragraph), and the pages have solid content on the subject matter, your site will be found.
As the science and/or art of search engine optimization continues to evolve, so will our approach. Thus, "what is SEO," is usually subject to change. We apologize for this inherent evil.